A Message From The Student Traffic Court Chief Justice
As Chief Justice of Traffic Court, I welcome you to the Transportation and Parking Services website. Student Traffic Court prides itself on working as hard as possible to serve the needs of the student body. A large aspect of our job is to hear the student population and make sure the campus is accessible to all. We also provide oversight on different transportation related projects.
In years past, the Student Traffic Court has initiated and funded projects such as the Gator Locater GPS bus tracking system, purchasing vehicles for SNAP (Student Nighttime Auxiliary Patrol), and GatorLift. On top of those larger projects, we have also increased scooter parking at Norman Garage and replaced old bike racks with new ones.
We also review and judge the appeals you submit in the most fair and timely manner possible.
I am always available to listen to your questions, comments, and concerns regarding parking and transportation here at the University of Florida. Please feel free to reach out to me at my email jacobwetter@ufl.edu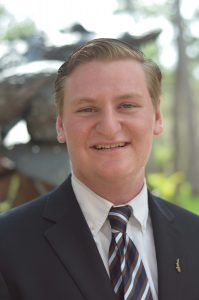 Go Gators!
Jacob Wetter
Student Traffic Court Chief Justice
---
Student Traffic Court presides over the initial appeal of student parking citations as an autonomous agency under the oversight of Transportation and Parking Services.
The court consists of a Chief Justice and twelve student Associate Justices, appointed by a Selection Committee and confirmed by the Student Body President.
Student Traffic Court administers student fines revenue to implement and fund special transportation and parking improvements which impact students. Student Traffic Court also aims to provide students with an avenue of communication for reliable information on transportation and parking issues. Every Student Justice is required to hold office hours so that students may have their voices heard on these issues.
We are no longer accepting applications for Student Traffic Court. Please come back next year to apply. Thank you for your interest!

---
Student Traffic Court Justices
Joshua Berko, Chief Justice
Brendan Barany
Nykecia Jamerson
Emily Briano
Kyle Phipps
Kevin Goza
Brittany Spinelli
Gabriella Manuszak
Jack Corey
Lisette Pellot
Cadynce Pellot
Jacob Wetter
Joni Seligson
Victor Musleh
Christopher Thatcher
Joshua Martinez