UF Safe Rides By Lyft offers current UF students discounted Lyft rides Wednesday through Sunday between the hours of 9 PM – 3 AM. A ride must begin and end within the service area below to qualify for the discount.
Important Information
The University of Florida strives to facilitate safe transportation options for students on and around campus; however, the University has no ownership or control of private companies providing transportation logistics, including but not limited to Lyft, Inc ("Lyft"), a transportation logistics network provider. The University is not affiliated with Lyft or Lyft Drivers and makes no representations or warranties regarding the Lyft app or Lyft Driver services or vehicles, or the accuracy of the content contained in the Lyft app or Lyft website. The University is not responsible for the quality of service that students receive from Lyft Drivers or any injury or damage which may result from such services. By enrolling in UF Safe Rides with Lyft through your official invitation email, you acknowledge, understand and agree that (1) in order to receive the discount you must have (or create) a valid Lyft account, (2) any legal relationship arising out of your use of the Lyft app is exclusively between you and Lyft, and (3) you assume any and all risks associated with your use of the Lyft app. Each user of the Lyft app shall be subject to Lyft's standard terms and conditions and Lyft's standard privacy policy as set forth on Lyft's website.
Program Details
As of November 1, 2020, the UF Safe Rides By Lyft discount has been increased from 25% to 50% on all qualifying rides.
50% discount on qualifying Lyft Standard or Lyft XL rides
Rides must begin and end within the service area to qualify
The maximum discount per ride is $15 (50% of a $30 total ride cost)
Available Wednesday through Sunday from 9 PM – 3 AM
The discount is not applied during spring break or semester break weeks

Please contact UF SNAP at (352) 392-SNAP (7627) if you require an ADA-accessible ride
How To Sign Up
On Tuesday, August 25, 2020, all currently enrolled students received an invitation at their official UF email account from Lyft Business regarding the UF Safe Rides Lyft Pass discount. Open this email and follow the simple steps inside to sign up for the UF Safe Rides program.
Your discount will then automatically be applied to your account within the Lyft app (in the Promos section) to rides which meet the program eligibility criteria. If you don't have a Lyft account yet, download the Lyft app and sign up for an account using your UF email address, then follow the steps in the invitation email to access the discount.
If you cannot find your invitation or believe that you did not receive it, please make sure to check through your spam or junk mail folders. If you still can't find your invitation, please notify us of the issue here: https://forms.gle/8yZZCi7EHmEx961p9
If you see an expiration date of the last day of the current month listed in your Lyft app, don't worry – the program discount is automatically re-applied on the first day of each month, so the last day of the current month will always show as an expiration date but won't affect your ability to receive discounted rides.
Service Area
To qualify for the 50% discount, your Lyft Standard or Lyft XL ride must begin and end within the service area shown on the map below.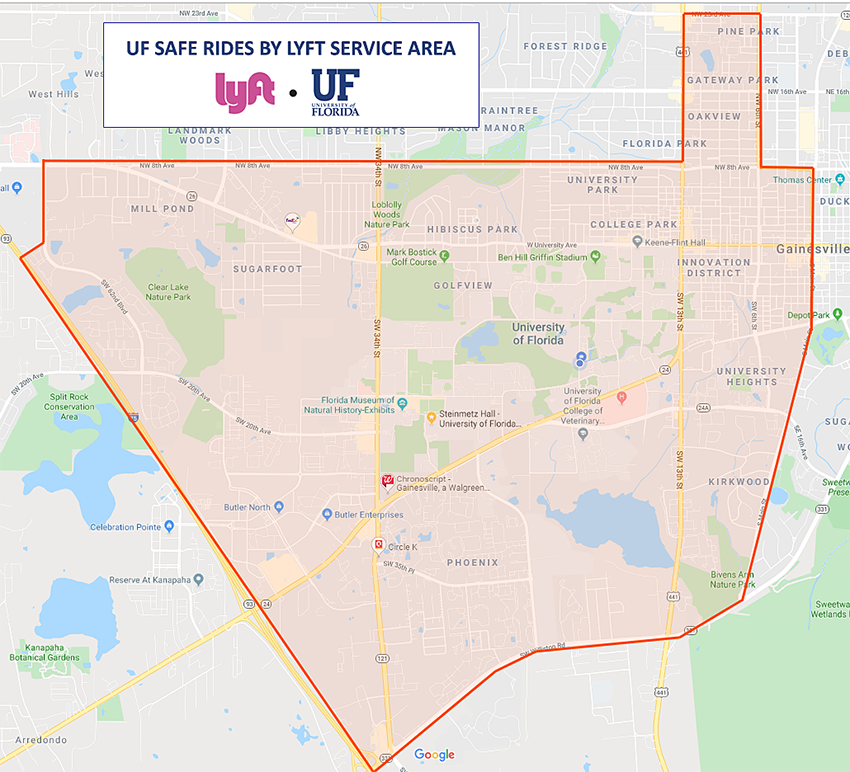 Lyft's Health Safety Program
In response to COVID-19, Lyft has launched a Health Safety Program which includes:
Personal health certification for drivers and riders
Required face masks for drivers and riders
Health safety education for drivers and riders
Distribution of cleaning supplies and masks for drivers
Tips For Riding Smart With Lyft
Verify your ride by making sure the license plate number, driver information, and car make and model match what you see in the app
Share your location and route with a friend or loved one from within the Lyft app so they can follow your ride in real time
Follow the Lyft vehicle on GPS via the app
Ask the driver to say who they are picking up