Micromobility (E-Scooters) Pilot Program
Micromobility (E-Scooters) Pilot Program
Students, faculty and staff at the University of Florida now have another transportation option in the City of Gainesville's Micromobility Pilot Program through a collaborative effort between the City and UF TAPS. The program allows three vendors – Bird, Spin and Veo – each to deploy a fleet of electric scooters for rent throughout the City and on campus.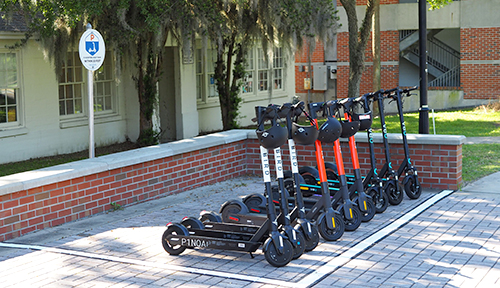 E-scooters are available for rent from 6 AM – midnight daily to provide a sustainable option for short-distance trips with low cost-per-minute rental fees. Members of the UF community may sign up for an account with any of the three vendors below and may begin renting e-scooters immediately. Florida Statutes place e-scooters and bicycles in the same category, meaning that e-scooter operators must follow the same rules of the road as cyclists, including riding in bike lanes wherever possible and obeying all posted roadway signs.
UF has established specific geofenced parking areas on campus for e-scooter parking as shown on the map below. Operators must park only in these designated areas. E-scooters parked anywhere on campus outside these areas will continue to accrue charges from the vendor until the vehicle is parked correctly or rented by someone else. Please park only in designated e-scooter parking areas to avoid a hefty bill!
We encourage students, faculty and staff to safely explore how these devices can meet your transportation needs on- and off-campus. Please review the information and resources on this page to better understand the program and the safe and legal use of micromobility devices at UF and in the City of Gainesville.
Program Links
Additional Information
Campus Micromobility Parking Map
Safety Guidelines
Click on graphic to view larger version