** DUE TO CONSTRUCTION, OUR ROUTES HAVE CHANGED – SEE ROUTE MAPS BELOW FOR IMPORTANT INFO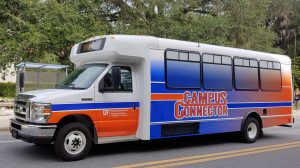 The Campus Connector is a fixed-route walk-on shuttle service connecting faculty, staff and students at multiple destinations across campus. The shuttle is free to passengers and does not require a Gator 1 ID to ride.
We currently offer two routes, Orange and Blue, both operating Monday through Friday from 6:30 AM – 5:30 PM. Shuttles arrive at the stops on each route at 15-20 minute intervals throughout the day, and a map of both routes and additional details are available below.
HOW TO TRACK THE SHUTTLES
Download the free DoubleMap Bus Tracker app from the Google Play or ITunes App Store to view routes and track our shuttles in real time on your phone or mobile device.
Or click here to view the route maps and track the shuttles in real time on your computer.
ROUTE INFORMATION AND MAPS
ROUTE CHANGES BEGINNING MONDAY, MAY 3, 2021: Due to a construction project scheduled to close Museum Road east of Gale Lemerand Drive from May 2021 through March 2023, both Campus Connector routes implemented the changes shown below beginning on Monday, May 3. For an interactive Google map of these modified routes, please visit this link.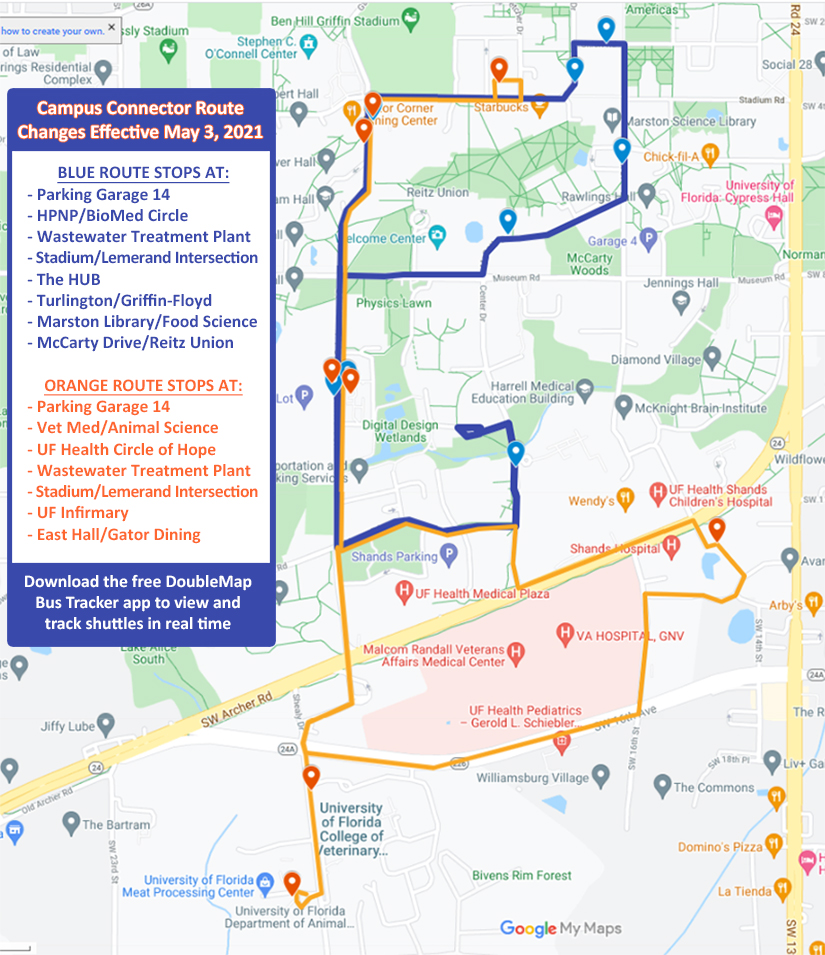 BLUE ROUTE – Providing service from Parking Garage 14 on Gale Lemerand Drive to stops at the HPNP/Biomed Circle, the Stadium/Lemerand intersection, the HUB, Turlington/Griffin-Floyd on Union Road, Marston Library/Food Science, and McCarty Drive/Reitz Union
ORANGE ROUTE – Providing service from Parking Garage 14 on Gale Lemerand Drive to stops at the Vet Med/Animal Science areas on Shealy Drive, the UF Health Circle of Hope, the Stadium/Lemerand intersection, and the UF Infirmary
**Additional service note: Two shuttles will operate on each route during peak times of 6:30-10 AM and 2-5:30 PM. During off-peak hours in the middle of the day, only one shuttle will operate on each route, so wait times may be longer. However, to minimize your wait and know exactly when your shuttle will arrive, please use the free DoubleMap Bus Tracker app! **