Campus Connector is currently providing full service to our customers with extensive COVID-related safety precautions as shown below. Hop on a shuttle and ride with us today!
We Care About Your Safety!
We Have Enacted Important COVID-19 Precautions:
Masks or face coverings are required for all Campus Connector drivers and passengers
Vehicles are fully professionally sanitized at the end of each business day
Frequently touched surfaces are sanitized after every passenger trip
Driver/passenger partitions installed in all vehicles
Shuttle capacity reduced to 50% to maintain physical distancing
In addition, we are continually monitoring and following all federal, state and local transit guidelines to ensure that we provide the safest possible environment for our staff and customers.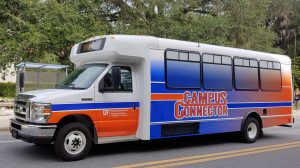 The Campus Connector is a fixed-route walk-on shuttle service connecting faculty, staff and students at multiple destinations across campus. The shuttle is free to passengers and does not require a Gator 1 ID to ride.
For the Fall 2020 semester, Campus Connector has expanded service to provide better connections across campus for faculty, staff and students.
We currently offer two routes – the Orange Line and the Blue Line – both operating Monday through Friday from 6:30 AM – 5:30 PM. A map of the two routes and additional details are shown below.
HOW TO TRACK THE SHUTTLES
Download the free DoubleMap Bus Tracker app from the Google Play or ITunes App Store to view routes and track our shuttles on your phone or mobile device.
Or click here to view the route maps and track the shuttles in real time on your computer.
ROUTE INFORMATION
BLUE LINE – Providing service from Parking Garage 14 east to areas on Newell Drive including Marston Library/Food Science, Harrell/ARB/McKnight and the UF Health Circle of Hope
Please Note: The Blue Line route will pick up and drop off at the Rawlings and Marston/Food Science stops on Newell Drive twice on every trip, once after leaving Garage 14 and once after leaving the UF Health Circle of Hope. Passengers at Rawlings and Marston/Food Science should read the electronic sign on the front of the bus to determine whether it's picking up on its first (headed to the Circle of Hope) or second (headed back to Garage 14) run through those stops on each trip.
ORANGE LINE – Providing service north and south on Gale Lemerand Drive to the Infirmary, Vet Med/Animal Science, and Parking Garage 14
**Additional service note: Two shuttles will operate on each route during peak times of 6:30-10 AM (Blue), 6:30-11 AM (Orange) and 2-5:30 PM (both routes). During off-peak hours in the middle of the day, only one shuttle will operate on each route. **
ROUTE MAP