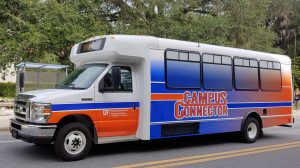 Campus Connector Tracking App Information
The Android version of Passio Go is currently experiencing server issues which are temporarily preventing tracking. We sincerely apologize for this inconvenience – the Passio team is working to repair these issues as quickly as possible. In the meantime, please use the online version of Passio Go through the embedded map below or by visiting uniflorida.passiogo.com.
Download the free Passio Go app today in order to track our shuttles in real-time!
Passio Go is free to download in the Apple and Android app stores and does not require an account to be created or any personal data to be entered in order for use. Customers may simply download Passio Go, choose UF Campus Connector as your agency service provider from the menu, and immediately access our routes and view our shuttles' locations in real-time.
Campus Connector Route Schedule
The Campus Connector Circulator route provides service from 6:30 AM – 5:30 PM to multiple destinations including the HUB, Turlington/Marston, Reitz Union, SW Rec and Cultural Plaza, Lakeside, Corry Village, Frat Row, and Keys/Springs
The Campus Connector Express route provides service from 6:30 – 9:00 AM and from 3:00 – 5:30 PM (no service provided between 9:00 AM – 3:00 PM) north and south on Gale Lemerand Drive to Parking Garage 14, the campus core and the HPNP/Health Center area
Both routes will operate Monday – Friday with service provided to each stop approximately every 15-20 minutes throughout the day.

Campus Connector Live Tracking Map