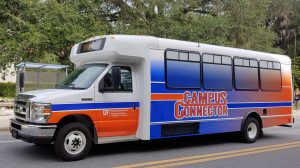 The Campus Connector is a fixed-route walk-on shuttle service connecting faculty, staff and students at multiple destinations across campus. The shuttle is free to passengers and does not require a Gator 1 ID to ride.
Our service operates Monday through Friday from 6:30 AM – 5:30 PM, and shuttles arrive at the stops on each route at 15-20 minute intervals throughout the day. Live shuttle tracking and route information are available through the free DoubleMap Bus Tracker app or by clicking the map link in the Shuttle Tracking and Route Map section below.
CONNECTOR ROUTE CHANGE FOR FALL 2022:
Beginning on Monday, August 22, Campus Connector service will be modified to provide two new routes for the Fall 2022 semester:
The Campus Connector Circulator route will provide service from 6:30 AM – 5:30 PM to multiple destinations including the HUB, Turlington/Marston, Reitz Union, SW Rec and Cultural Plaza, Lakeside, Corry Village, Frat Row, and Keys/Springs
The Campus Connector Express route will provide service from 6:30 – 9:00 AM and from 3:00 – 5:30 PM (no service will be provided on the Express route between 9:00 AM – 3:00 PM) north and south on Gale Lemerand Drive to Parking Garage 14, the campus core and the HPNP/Health Center area
Both routes will operate Monday – Friday with service provided to each stop approximately every 15-20 minutes throughout the day.
Campus Connector Map Routes
Please note that regular Summer Circulator service will still be provided through Friday, August 19 – to view the Summer Circulator route and track the shuttles until that date, please visit the DoubleMap web map below or download the free DoubleMap Bus Tracker app.
---
SHUTTLE TRACKING AND ROUTE MAP
To view Campus Connector's live map of the Summer 2022 Circulator route and track our shuttles in real-time, go to the public web-based map to view online or download the free DoubleMap Bus Tracker app from the Google Play or iTunes App Store for your phone or mobile device.