SNAP is back at work! As of Monday, August 31 at 6:30 PM, we are providing full service to our customers with extensive COVID-related safety precautions as shown below. Submit a TapRide request and ride with us tonight!
We Care About Your Safety!
We Have Enacted Important COVID-19 Precautions: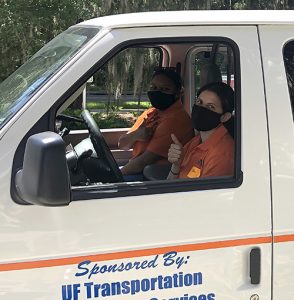 Masks or face coverings are required to be worn at all times by staff and passengers
Vehicles are fully professionally sanitized at the end of each business day
Driver/passenger partitions installed in all vehicles
Middle seat blocked in each row, reducing capacity to 8 passengers to maintain physical distancing
High contact areas such as door handles sanitized periodically throughout the night
The maximum group ride size has been limited to four passengers per request
In addition, we are continually monitoring and following all federal, state and local transit guidelines to ensure that we provide the safest possible environment for our staff and customers.
The Student Nighttime Auxiliary Patrol (SNAP) is a free, nightly, campus safety and transportation service for students sponsored by UF Student Government, Student Traffic Court and UF Transportation and Parking Services. SNAP operates four to seven 15-passenger vans (depending on demand) seven nights a week from 6:30 PM – 3 AM during the Fall and Spring semesters and from 8:30 PM – 3 AM during the Summer semester. If you would like to become a SNAP employee, apply below.